Beginners Guide
Welcome to HAWKEN.
Meet Laila. When you launch HAWKEN as a new pilot, she'll walk you through your first few levels and introduce you to the concepts you'll need to master if you want to survive long enough to become a seasoned veteran.
Stepping Out Of VR Training
Practice Against Training Bots in Offline Team Deathmatch
After your VR Training, you can group up with a team of bots in Offline Team Deathmatch. You won't gain XP or HC, but it's a good way to practice before playing against live opponents.
Practice firing at fast-moving targets. Learn to lead enemies with missiles and side-dash out of the path of enemy projectiles. Get a feel for how much heat your weapons generate and how much fuel your thrusters consume.
| | | |
| --- | --- | --- |
| A | Match Score/Time | Current match score and time remaining |
| B | Targeting Reticle | Indicates where weapons and items are aimed |
| C | Heat Gauge | Heat level of your weapons |
| D | Damage Indicator | Direction of incoming damage |
| E | Radar | Your location, objectives, allies, and enemies |
| F | Ability | Displays available ability and cooldown time |
| G | Current Armor | Your mech's remaining armor |
| H | Active Effects | Displays buffs, debuffs, and healing |
| I | Fuel Gauge | Remaining fuel available |
| J | Internals | Active and inactive Internals |
| K | Items Available | Available items and cooldown times |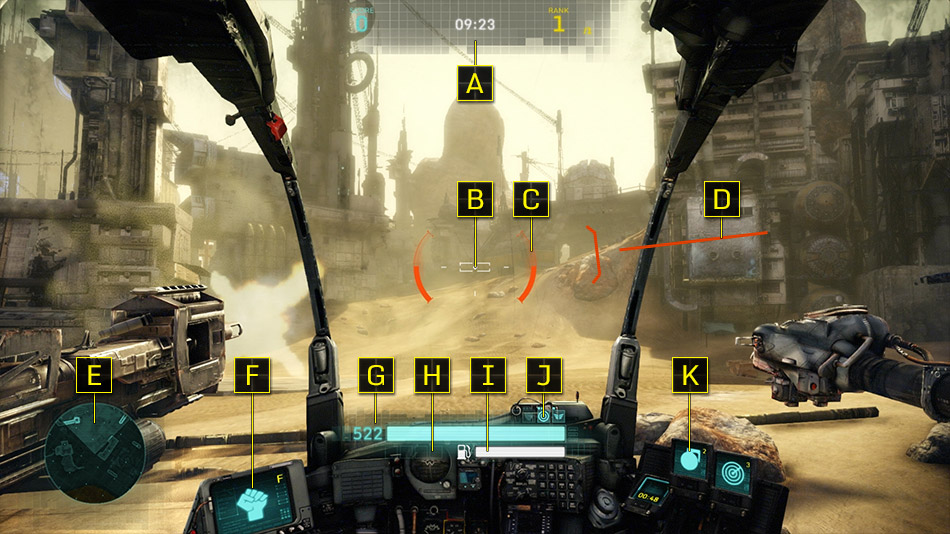 Your First Live Match
Prove Yourself in Team Deathmatch to Unlock Additional Game Modes
Once you've destroyed a few bots in training, it's time to play against other players. At first, you can only play Team Deathmatch. It's you and your teammates fighting against another team.
After three rounds of Team Deathmatch you will begin to unlock additional game modes.
Click PLAY, then QUICK MATCH, and LAUNCH to start your first live match.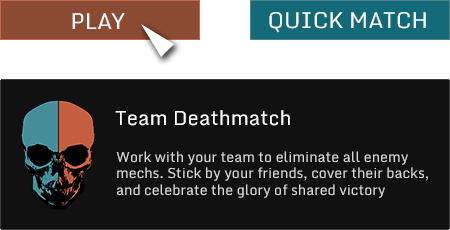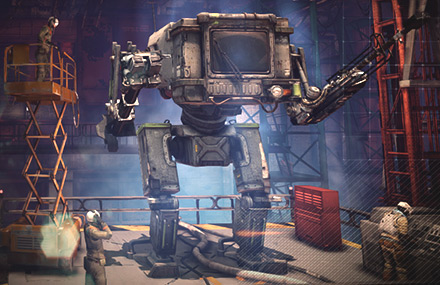 STAGING: Choose Your Mech and Holo Emotes
After you click READY in the Lobby, you'll enter the Staging Area. Here you can choose which mech you want to play. Click LAUNCH in the upper left to join the battle.
Find your teammates on the radar, group up with them, and start hunting down enemies. Be ready, these are live opponents, not bots, so they'll be less predictable and battles tend to get chaotic.
How to Unlock All Game Modes
The Mech Garage
ITEMS AND INTERNALS: Purchase Equipment in the Garage to Expand Your Options in Battle
After your first few matches, spend some time in the garage to check out all the equipment you can add to your mech.
Items are deployable equipment such as the Hologram and Shield. Internals are passive enhancements such as the Deflector and Repair Kit.
To see the equipment available for purchase, choose a mech in your garage and click ITEMS or INTERNALS.
Check out the Items Guide for more information on items.


STYLE: Customize the Appearance of Your Mech
HAWKEN gives you plenty of options to stand out on the battlefield. Select a mech and click STYLE to access cosmetic customizations, such as:
Mech body parts and custom chassis
Thrusters and repair drones
Camouflage, paint, and trim
Mech emotes and holographic emotes
Most style options require Mech Credits (MC) to purchase. If you need more MC, click BUY MECH CREDITS in the game menu.